Sitemap
La Maison du Gruyère
Place de La Gare 3
CH- 1663 Pringy-Gruyères
Tél. ++41 (0) 26 921 84 00
marche.gruerien@lamaisondugruyere.ch
La Maison du Gruyère is located 4 km (2.5 miles) from the motorway exit at Bulle, direction Gruyères (H189).
Parking is at disposal.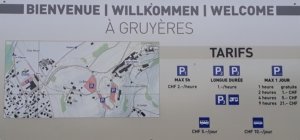 GPS : N 46º 34' 57 '' E 7º 4' 20''
Google Map
It is accessible by train, station of Gruyères on line TPF Bulle-Montbovon and is opposite the station.
See the SBB timetable.
Good to know :
Bus between station and town of Gruyères : 07:03 – 07:31 – 07:41 – 8:03 – 08:13 – 08:48 – 09:03 – 09:48 – 10:03 – 10:48 – 11:03 – 11:48 – 12:03 – 12:48 – 13:03 – 13:48 – 14:03 – 14:48 – 15:03 – 15:48 – 16:03 – 16:48 – 17:03 – 17:48 – 18:03 – 18:48
Bus between station and Moléson Village : 07:09 – 08:09 – 09:09 – 10:09 – 11:09 – 12:09 – 13:09 – 14:09 – 15:09 – 16:09 – 17:09 – 18:09